One Day Late is a rock band out of Edmonton, Alberta and they have brought us a fresh new album with a classic rock feel. Their self title 9 track album will have listeners of all ages interested. It's nice to see a band stay true to what rock music really is and to give listeners something to get excited about. I personally have never heard such a strong debut album for an artist or band in any genre.
One Day Late offers a classic sound inspired by the bands we all know such as AC/DC. With strong vocals, great instrumentation including guitar riffs you can get lost in, One Day Late will hook you from the first track. The band writes all their own songs and the album was recorded at The Warehouse Studio located in Vancouver where some of music's best have recorded. If you are a music lover this is an album you don't want to miss.
The album opens with Get To You, which is my personal favorite. An excellent choice to get listeners intrigued and interested in the rest of the album. The most recent single Here I Stand this is one of those songs that will give you the rock feel you loved back in the 80's or if you're too young for that you will at least get a taste of it. I can't really say enough good things about this album and my only real complaint is I wanted more. I guess instead of me telling you how amazing every song is you should just pick up the album and see for yourself.
One Day Late has been touring around Alberta and will also be joining Canadian Music Week in Toronto March 2013. If you get the chance to see them live, I highly recommend it. Nothing is better than live music, especially when it's good music. They have also been getting some great radio play on Alberta's top rock stations. So help support them by requesting Here I Stand of their first single Full Throttle on your local rock station.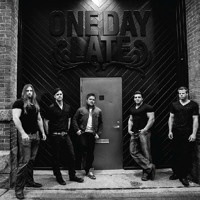 ONE DAY LATE